Book Club is back!
Now with two options: Thursday Afternoon or Tuesday Evening!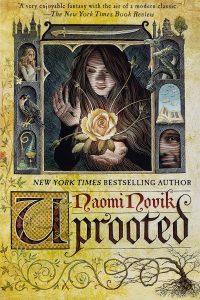 Uprooted by Noami Novak
discussion Tuesday December 14th at 6:30PM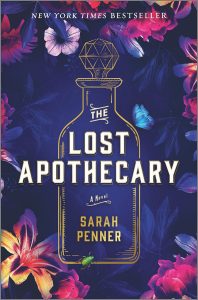 The Lost Apothecary by Sarah Penner
discussion Thursday December 16th at 12:30PM
Pick up one or both of this month's picks at the Malta Branch.
Tuesday Night book Club meets in the Meeting Room in Malta
Thursday afternoon Book Club will be meeting outside (weather-dependent), so BYOC- bring you own chair!
Follow Round Lake Library's board Evening Book Club Reads on Pinterest.
Previous Titles


2021

2016
| | |
| --- | --- |
| December | The Book of Speculation by Erika Swyler |
| November | The Corrections by Jonathan Franzen |
| October | Stole Lives by Malika Oufkir |
| September | What She Left Behind by Ellen Marie Wiseman |
| August | The Idiot by Fyodor Dostoyevsky |
| July | George Washington's Secret Six by Brian Kilmeade and Don Yaeger |
| June | The Paying Guests by Sarah Waters |
| May | Someday, Someday, Maybe by Lauren Graham |
| April | Around the World in 80 Days by Jules Verne |
| March | The House of Silk by Anthony Horowitz |
| February | The Nine Tailors by Dorothy L. Sayers |
| January | The False Prince by Jennifer A. Nielsen |
2015
| | |
| --- | --- |
| December | The Girl Who Loved Tom Gordon by Stephen King |
| November | A Tree Grows in Brooklyn by Betty Smith |
| October | The Virginian by Owen Wister |
| September | The Big Sleep by Raymond Chandler |
| August | The All-Girl Filling Station's Last Reunion by Fanny Flagg |
| July | The Map of Time by Filip J. Palma |
| June | The Red Dahlia by Linda LaPlante |
| May | The Handmaid's Tale by Margaret Atwood |
| April | The Bone Garden by Tess Gerritsen |
| March | The Dinner by Herman Koch |
| February | Windigo Island by William Kent Krueger |
| January | The Light Between Oceans by M.L. Stedman |
2014
December
Breakfast at Tiffany's by Truman Capote
November
The Legend of Sleepy Hollow by Washington Irving
The Devil in the White City by Eric Larson
October
The Alexandria Link by Steve Berry
September
Burn Palace by Stephen Dobyns
August
Out of the Deep I Cry by Julia Spencer-Fleming
July
The Storied Life of A.J. Fikry by Gabrielle Zevin
June
Nothing to Envy: Ordinary Lives in North Korea by Barbara Demick
May
Wild: from lost to found by Cheryl Strayed
April
My Life in France by Julia Child
March
The Thirteenth Tale by Diane Setterfield
February
Still Alice by Lisa Genova
January
The Body in the Library by Agatha Christie
2013
| | |
| --- | --- |
| December | The Bucolic Plague: how two Manhattanites became gentleman farmers by Josh-Kilmer Purcell |
| November | To Kill a Mockingbird by Harper Lee |
| October | Cocktail Hour Under the Tree of Forgetfulness by Alexandra Fuller |
| September | Travels with Charley in Search of America by John Steinbeck |
| August | The Sandcastle Girls by Chris Bohjalian |
| July | The Place in Between by Rory Stewart |
| June | Caleb's Crossing by Geraldine Brooks |
| May | The Story of a Beautiful Girl by Rachel Simon |
| April | The Paris Wife by Paula McLain |
| March | Zeitoun by Dave Eggers |
| February | Jane Eyre by Charlotte Bronte |
| January | The Invention of Hugo Cabret by Brian Selznick |
2012
| | |
| --- | --- |
| December | Milkweed by Jerry Spinelli |
| November | Same Kind of Different as Me by Ron Hall |
| October | The Vanishing Act of Esme Lennox by Maggie O'Farrell |
| September | Plainsong by Kent Harauf |
| August | The Language of Flowers by Vanessa Diffenbaugh |
| July | The Dirty Life: on farming, food and love by Kristin Kimball |
| June | In Other Rooms, Other Wonders by Daniyal Mueenuddin |
| May | Shanghai Girls by Lisa See |
| April | The Space Between Us by Thrity Umrigar |
| March | Cutting for Stone by Abraham Verghese |
| February | Little Bee by Chris Cleave |
| January | An Irish Country Doctor by Patrick Taylor |
2011
| | |
| --- | --- |
| December | The Woman Behind the New Deal by Kristin Downey |
| November | Baking Cakes in Kigali by Gaile Parkin |
| October | The School of Essential Ingredients by Erica Bauermeister |
| September | The Kitchen House by Grissom |
| August | The Kitchen House by Grissom |
| July | The Immortal Life of Henrietta Lakes by Rebecca Skloot |
| June | The Housekeeper and the Professor by Yoko Ogawa |
| May | Glass Castle by Jeanette Walls |
| April | Elegance of the Hedgehog by Muriel Barbery |
| March | The Art of Racing in the Rain by Garth Stein |
| February | Sarah's Key by Tatiana de Rosnay |
| January | The Forgotten Garden by Kate Morton |
2010
| | |
| --- | --- |
| December | Let the Great World Spin by Colum McCann |
| November | The Secret Life of Bees by Elizabeth Strout |
| October | – |
| September | Olive Kitteridge by Elizabeth Strout |
| August | – |
| July | The Help by Kathryn Stockett |
| June | – |
| May | Middlesex by Jeffrey Eugenides |
| April | The Double Bind by Chris Bohjalian |
| March | Sarah's Key by Tatiana de Rosnay |
| February | – |
| January | – |