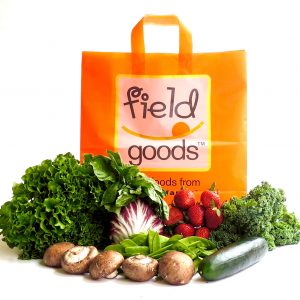 ***Due to Library Closure, pickups for Friday, March 20th will be available at A Bead Just So in Ballston Spa.***
Field Goods makes its weekly fresh produce delivery services available for pickup at the Round Lake Library's Malta Branch.
Field Goods will make produce deliveries on Friday by 2:30pm. Anyone is welcome to place an order through the Field Goods website by Tuesday at 11:59pm for pickup on Friday of the same week.
Weekly or bi-weekly produce subscriptions cost $16, $21, $27 and $32. To sign up go to Field-Goods.com, click Order Now, search Public Locations for Malta, and then follow the prompts. Questions? Email info@field-goods.com!
Founded five years ago, Field Goods is a one-of-a-kind business that delivers freshly-harvested local fruit and vegetables to employees and consumers at workplaces and community locations. Field Goods subscribers receive 5 to 8 different types of fruits and vegetables each week, sourced from over 80 small farms. Weekly add-on options include local artisan bread, fresh pasta, various cheeses, extra fruit and more. A weekly e-newsletter, In the Bag, provides tips and recipes as a helpful guide for preparing the produce. During the winter, deliveries include over a dozen types of produce flash-frozen at the peak of their freshness, as well as greenhouse-grown produce, root vegetables, herbs, beans, oils, and other products. Customers sign up online at Field-Goods.com, and can put their account on hold and restart it at any time.
Research attests to Field Goods' healthy results. The Sage Colleges Nutrition Science Department's 2014 research study reveals a direct correlation between Field Goods and healthier diets, increased satisfaction with eating habits, and saving time and money on grocery shopping.
The Field Goods Story
Field Goods is a rapidly growing company in the position to reinvent food distribution. Located in Athens, NY, a small Hudson River town in Greene County, our company was started in 2011 with an old station wagon, two employees, and 60 customers. We've now grown to service eastern New York State, including the New York metro area, western CT and MA, and northern NJ.
Our distribution model provides numerous benefits to the community while reducing food waste and supporting sustainability. Consumers gain convenient access to local produce on a regular basis along with information that motivates them toward a healthier lifestyle. Employers benefit from a wellness program that is truly effective in changing the habits of their employees. Small farmers benefit from selling their unique products to a new market at a fair price, and the environment benefits from drastically reduced emissions!
Field Goods was recognized for its hiring of workers with disabilities, and received grants from Greene County Economic Development, the New York State Capital Region Economic Development Council competition, and the USDA for its work to support agriculture and create jobs in an economically disadvantaged area. Field Goods is a certified New York State Women-Owned business.